On Friday, October 21, 2016, Netflix released six additional episodes of Black Mirror.  This was the third "season" for the show, now with a grand total of nineteen episodes including one holiday episode from 2015.
My wife enjoys cooking shows, baking contests, and true crime mini-documentaries.  I grew up on sitcoms, got hooked on police- and medical dramas throughout the 90s, and really enjoyed Lost (in its early years, at least).  With children now, I am aware of a cartoon who can cure stuffed animals, a talking train who weasels out of mischief episode after episode, and can recite all of the lyrics to Mickey Mouse Clubhouse, thanks to They Might Be Giants.
This past week, however, the missus and I have watched all six of the newest Black Mirror episodes.
My writing idol David Foster Wallace did not own a television in adulthood.  Another favorite named Dave Eggers always wiggles in the trivial nugget that he and his family are virtually tech-free at home (no smartphones, social media activity, etc.).  Ironically, one of the shows my wife watches features a home renovation couple from Texas who also do not have a TV in their own home.
Black Mirror, identified by Netflix as containing "near-future" settings, is equal parts riveting and terrifying.  To me, the episodes involving technology (and specifically social media) contain themes that most viewers already recognize as problematic.  While some of us can vividly remember a time before the internet and our supposed "connectivity" involved with it, can we really imagine our current lives without those luxuries?  Perhaps it's not an all-or-nothing life we should live with regard to being connected or not.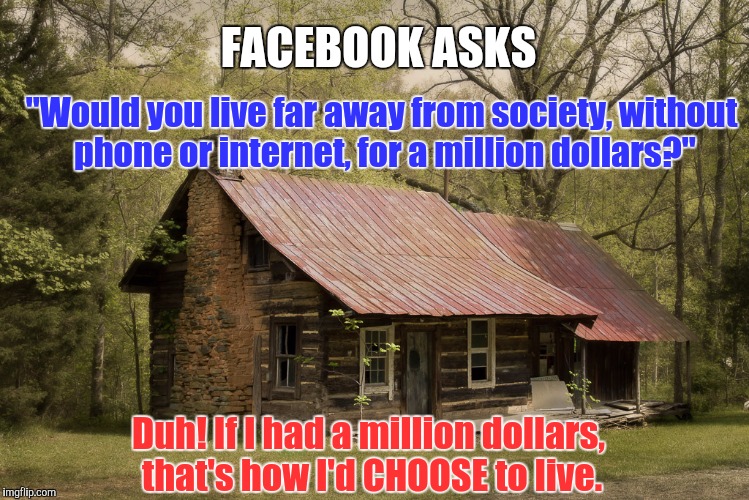 This is the point where I remind readers of Thoreau and Walden.  He purposely removed himself from a busy society (in the mid 19th century) in order to return (Romanticize!) to the more attractive natural settings accessible to him.  He desired a connection with the earth and a deeper understanding of his existence.  Most of us do, I would argue.  Yet, we busy ourselves with newer technological distractions and continue to think we're postponing the inevitable.  By the way, this particular meme is worrisome to me.  What is the need for a million dollars if this is the proposed environment/lifestyle?  I'm also doubting the author's proposed future of "CHOOSE"-ing to live.
What happens to you when your internet goes out?  What do you look like when an app won't open?  How much stress have you incurred based on any post by anyone on any social media outlet?
What, we must ask ourselves, is the fucking point of it all?
Is this the legacy we wish to leave?
Memorial Service speaker:  Tony was a good man.  He was a father, a brother, and a son.  He had 49 likes on his 21st birthday status.  (waits for crowd to settle down).  A tweet on September 30, 2014 was shared by none other than Dwayne "The Rock" Johnson.  (waits longer…)